Plug in Type Tire Pressure Monitoring System (TPMS)
W417-T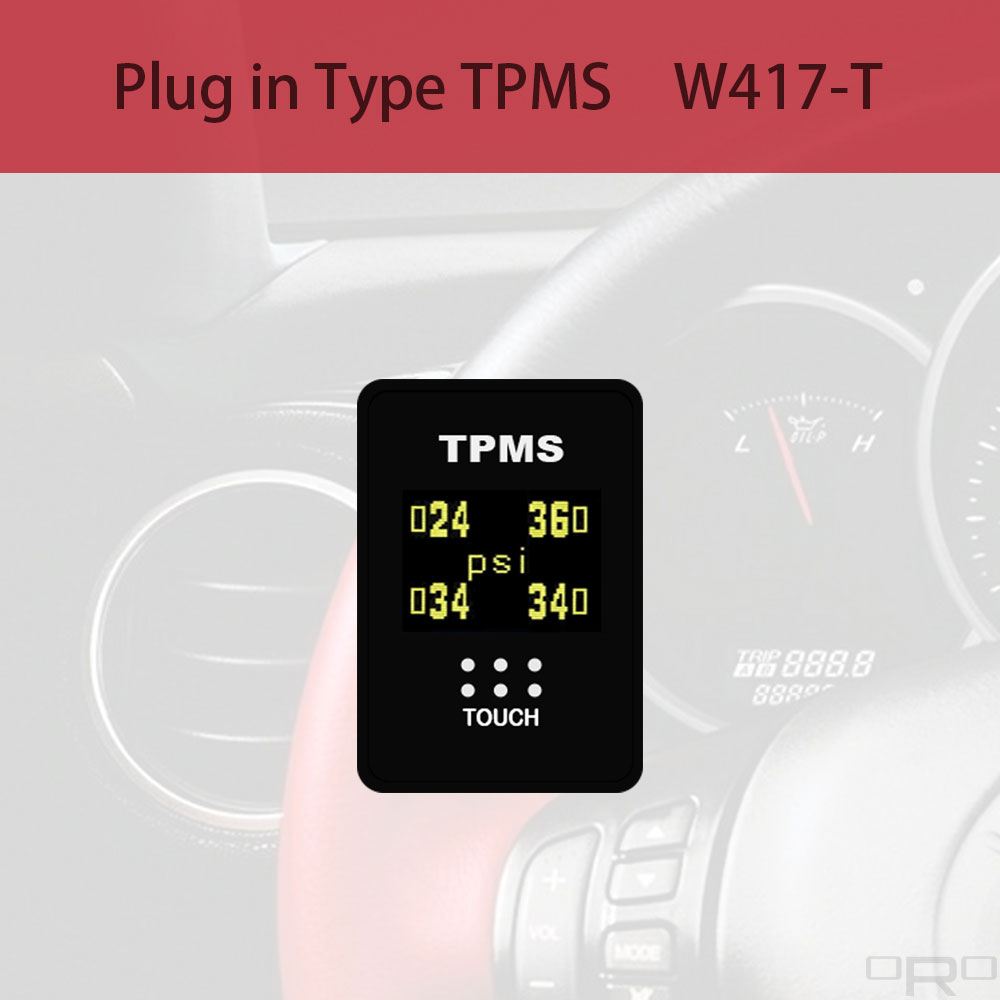 W417-T was developed for Toyota which can 100% fit into blank switch space inside the vehicle. (Size 22mm x 33mm) and displaying through OLED monitor to make driver able to acknowledged all tire information and able to react instantly when abnormal status happened.
Product Features
Controller type, use for specified vehicle.
Multi tire change mode, easy setting.
Tire temperature and pressure information display.
Four tires information simultaneous display.
It would also warm if the tire flat quickly.
When the tire pressure <20% standard pressure or >30% standard pressure, it will alert with sound and words at the same time.
OLED touch panel, one button can set all functions.
Size for Plug in
Transmitter Module Specification
Power Supply: 3V Lithium battery
Operating Humidity: Max 95%
Storage Temperature: -40°C ~ 125°C
Operation Temperature: -30°C ~ 115°C
Transmitting Power: Max 72 dBμv/m
Transmitting Frequency: 433.92 MHz
Pressure Monitoring Range: 0 ~ 116 psi (or 0 ~ 800 kPa or 0 ~ 8 bar)
Pressure Reading Accuracy: ± 1 psi (or ± 7 kPa ; ± 0.1 bar)
Temperature Monitoring Range: -30°C ~ 115°C
Temperature Reading Accuracy: ± 3°C
Module Weight: 22.7g ± 1g
Receiver Module Specification
Power Supply: DC 9V ~ 16V
Operating Humidity: Max 95%
Operation Current: ≦ 80mA at DC 12V
Storage Temperature: -30°C ~ 85°C
Operation Temperature: -25°C ~ 85°C
Pressure Display Range: 0 ~ 116 psi (or 0 ~ 800 kPa or 0 ~ 8 bar)
Temperature Display Range: -30°C ~ 115°C
Gallery
Tag
Tire Pressure Display
Tire Pressure Monitoring System
TPMS
Plug in Type
Press Release
Plug in Type TPMS W417

Plug in type is developed for Toyota, Honda and Nissan which can 100% fit on the blank switch space. Others car brand, can refer to W417-C, even without blank switch space, can also drilling...

Read More

Motorcycle TPMS W206

Can provide immediate tires' pressure and temperature status. This real time information can extend tire life, reduce fuel consumption and provide a more safe riding condition.

Read More