Plug in Type Tire Pressure Monitoring System (TPMS)
W417-TA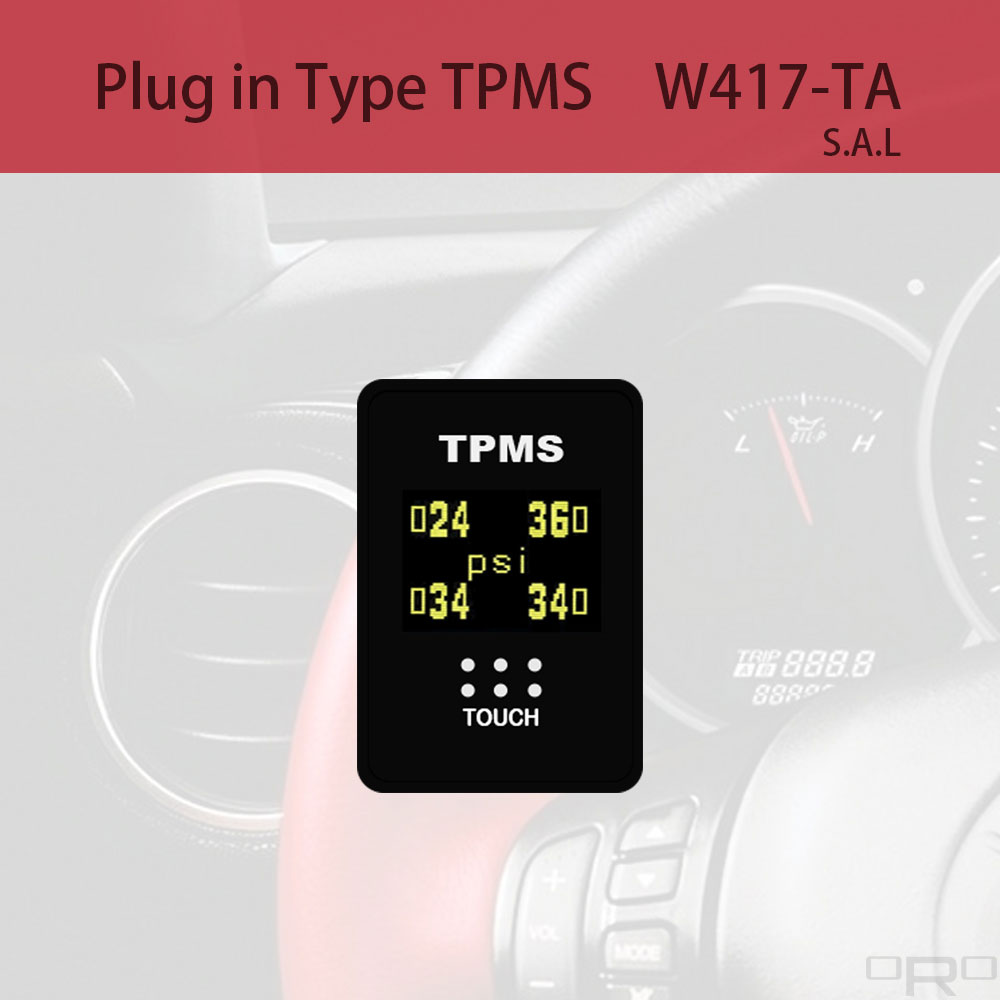 W417-TA is using OLED which can display in different languages in order to let the driver to be acknowledged when any abnormality happened to the tire. By the way, W417-TA imported Smart Automatic Location system, which means the receiver can detect tire location automatically after tire rotation or sensor changed in 3 minutes after the vehicle running on the road.

W417-TA is abbreviation from Toyota + Automatic Location which means it's dedicated for Toyota use.
Product Features
W417-TA is able to display Tire Pressure and Tire Temperature by touch panel and 100% suitable on indicated vehicles.
Size for Plug in
Transmitter Module Specification
Power Supply: 3V Lithium battery
Operating Humidity: Max 95%
Storage Temperature: -40°C ~ 125°C
Operation Temperature: -30°C ~ 115°C
Transmitting Power: Max 72 dBμv/m
Transmitting Frequency: 433.92 MHz
Pressure Monitoring Range: 0 ~ 116 psi (or 0 ~ 800 kPa or 0 ~ 8 bar)
Pressure Reading Accuracy: ± 1 psi (or ± 7 kPa ; ± 0.1 bar)
Temperature Monitoring Range: -30°C ~ 115°C
Temperature Reading Accuracy: ± 3°C
Module Weight: 12.8g ± 1g
Receiver Module Specification
Power Supply: DC 9V ~ 16V
Operating Humidity: Max 95%
Operation Current: ≦ 80mA at DC 12V
Storage Temperature: -30°C ~ 85°C
Operation Temperature: -25°C ~ 85°C
Pressure Display Range: 0 ~ 116 psi (or 0 ~ 800 kPa or 0 ~ 8 bar)
Temperature Display Range: -30°C ~ 115°C
Gallery
Tag
Tire Pressure Display
Tire Pressure Monitoring System
TPMS
Plug in Type
S.A.L
Press Release
Plug in Type TPMS W417

Plug in type is developed for Toyota, Honda and Nissan which can 100% fit on the blank switch space. Others car brand, can refer to W417-C, even without blank switch space, can also drilling...

Read More

Motorcycle TPMS W206

Can provide immediate tires' pressure and temperature status. This real time information can extend tire life, reduce fuel consumption and provide a more safe riding condition.

Read More